Registration Fees (Sept-June only)
$20/dancer or $25/family
---
Policies
Tuition is due on the 1st of each month. A $10 late fee will be applied to all accounts not paid by the 20th of each month. Tuition is non-refundable; in the event of an unavoidable absence, the studio must be informed prior to the absence and a make-up class will be scheduled. Missed, reported classes may be made up within one month's time of an absence only.
Annual tuition is divided up into ten monthly payments to be made September-June.
Tuition may be paid by check or cash; when paying by check please include your dancer's name on the subject line. There is a $25 service charge on all returned checks.
Students should arrive 10 minutes prior to the start of their scheduled class and depart when class is adjourned. After departing class, students are to wait inside of the building until a parent or legal guardian arrives.Students must attend class regularly, arriving on time and prepared for class. No street clothes, pajamas, gum, food, jewelry, or cell phones are allowed in class.
Any student who arrives to class unprepared will not be permitted to participate in class.
In Focus Dance Center will be closed for Labor Day, Halloween, Thanksgiving, Winter Break, Spring Break, and Memorial Day.
In Focus Dance Center is not responsible for any lost or stolen items.
Each dancer will be assigned a "mailbox", which should be checked weekly for studio newsletters and updates.
Dress Code

Females: A leotard and tights along with class appropriate shoes are required for each class; hair must be neatly secured off of the neckline.
~Ballet skirts are permitted in ballet and pointe classes and form fitting shorts may be worn in all other classes.
~Shirts and pants may be worn in hip hop only.

Males: Form fitting shirts and loose pants, which allow for freedom of movement.

---
Recital
June 16, 2018 (Rehearsals June 14 & 15)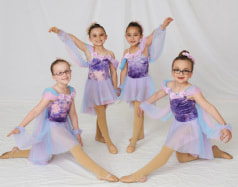 Costume fees can be paid in a single installment in December or added on to monthly tuition from October through December.
For individual classes, the costume fees are:
1) $55 for children 10 years old (by Oct 1) and under
2) $65 For children 11 years old (by Oct 1) and over
For combo classes, costume fees are:
1) $75 for a combo class of 2 styles (one 2-in-1 costume)
2) $130 for a combo class of 3 styles (one 2-in-1 costume + additional costume)

A $10 fee/class will be billed in February for tights, which will be included with your dancer's costume(s).

There is a $40/ family recital fee, which covers all rehearsal time at the theater and includes two tickets for the show. The recital fee is due with the March tuition installment and is non-refundable.

Prior to the recital all account balances must be paid in full in order for your child to participate in the show.
---
Recital Photos and Video

Group and individual photos will be taken at In Focus Dance Center. Students will arrive according to the posted schedule in costume and makeup with hair in a bun. Pictures in Motion (www.picsinmotion.net) will be recording the recital and will be taking orders at the auditorium.

Recital Tickets

Tickets are $10 if purchased in advance and $12 at the door. Children 3 and under, not requiring their own seat, are free and do not need a ticket. Dancers and stage moms will remain backstage for the entirety of the show and will not need a ticket.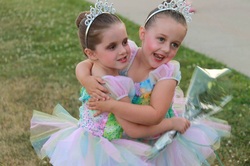 It's Show Time

Dancers should arrive at Flat Rock High School Auditorium for rehearsal in street clothes with their hair in a bun and stage make-up on. In addition to their recital costume, tights, and shoes your dancer will need a make-up kit for touch-ups with the following: bright red lipstick, pink blush, brown eye-shadow, and brown eyebrow pencil; older dancers may also want foundation, black eyeliner, black mascara and red lip liner.

Everything brought backstage must be labeled with the dancer's first and last name. No jewelry or nail polish can be worn.

Dancers should arrive at the auditorium on Saturday just as they did for rehearsal, with the same items in their possession. The matinee will begin at 12:00 pm and the evening show will start at 4:30 pm.

During the performance please remember:
· No flash photography or videotaping will be allowed during the recital
· Please turn off all cellular phones during the performance
· During the performance, please enter & exit the theater during theater applause only
· No food or drink inside the theater
---